Since my college days at UP, I have been going to the Book Fair. Each time that I find myself near a bookstore or a room full of books, I either run out of cash or sign away using my credit card.
My interest in books and reading has probably led me to reading's twin sister: writing. The two go hand in hand. I have never met a writer who did not read although there are a lot of people who read but do not write.
Being a regular visitor of the annual Book Fair, I was so excited to finally see my very first book sold at the Manila International Book Fair this year. Mom's A Stewardess was at the Fair last September 13,2008. I stayed at the Claretian Publications (they're my publisher!) booth from 2 to 3pm that day to sign books for those who bought. We sold a pretty decent number of books in an hour. I wonder how many books were sold for the whole five days?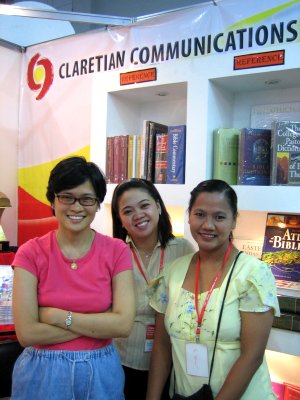 Special thanks to Fr. Bong, Lea, Henry, and Belle for being on hand at that time to help me out with the signing and to answer any queries which the visitors may have had about any of the books which were being sold.
I don't know if it was the excitement of having a book out but I only bought one book for me this year as compared to past years when I would buy tons and tons of books either to keep or to give away. My kids were happy with their purchases (the Book Fair is a family affair and outing) and my daughter was entertained by the artwork showcasing well-loved characters from Filipino children's books.
Anyway, till the next Book Fair. Would copies of my book still be available by then? We'll see.